By Dave Rodgers (Marketing Manager of Elite Screens Inc.)
Garden Grove, Calif. Sep. 28, 2017 — Elite Screens, Inc. an innovative company that specializes in quality projection screens for retailers and integrators, today announced the launch of its 55" PicoScreen™ to provide a larger projection footprint for presentations on the go.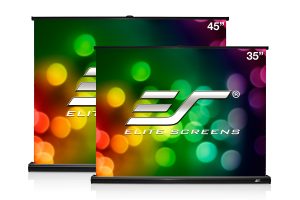 Elite's Pico Screen For Tabletop Presentations to Go, Just Got Bigger with a New 55" model.
Elite's PicoScreen™  Series is an ultra light and compact free-standing projection screen that is designed for portable tabletop presentations.  It is now unlikely that traveling professionals or even an everyday person would leave home without some form of multimedia device that generates either still or animated images.  A pocket (or Pico) projector allows these images to be magnified into a more easily seen format. The PicoScreen™ answers the call with a slim and highly portable design.  It is ideal for professional presenters, gamers or parents entertaining small children. The PicoScreen™  incorporates a simple bottom-heavy design with self-locking cross risers to allow the screen to be pulled up out of its durable metal casing and be set up in a couple of seconds, literally. The material used is Elite's Maxwhite® FG 1.1 gain matte white projection screen material that is Greenguard® (UL2818) certified for safe indoor air quality emissions. The PicoScreen ™ Series comes in a 4:3 (NTSC) aspect ratio and additional sizes include 35" and 45" models. For added convenience and protection, a durable fabric carrying case is included.
Pricing, Availability, Warranty
Elite Screens' PicoScreen™ is priced at $139 (USD) MSRP and will be available through Elite's retail sellers. It comes with Elite's 2-year manufacturer's warranty and a 3-year ENR-G warranty for Educational, Non-Profit, Religious and Government/Military organizations.