Elite makes in-ceiling (integrated ceiling) projector screens with a variety of features.  To compare the various models, look at the comparison sheet (here).
Evanesce Series
The Evanesce is a fully contained in-ceiling electric projection screen. It is encased in a white-enameled aluminum housing for convenient installation. There are tensioned and non-tensioned variants available with matte white projection surfaces in 4:3, 16:9, 16:10, and 2.35:1 aspect ratios in sizes from 84"–139". Control package includes IR and RF receivers, remote controls, RJ45 wire connection and 5-12Volt trigger along with an external and an in-wall integrated low-voltage 3-way wall switch.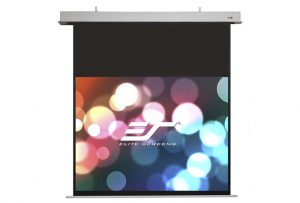 Evanesce B Series
The Evanesce B is a versatile in-ceiling projection screen that conveniently disappears from view when not in use. It can be installed from within the above-ceiling airspace or from below thanks to its removable base panels that were originally designed for the European market. Its GREENGUARD® certified MaxWhite® FG (fiberglass-backed) 1.1 gain matte white material provides superb color temperature with wide diffusion uniformity. The screen is moved by a strong, fast-acting tubular motor and comes with a full IR/RF wireless, 12-volt trigger and Ethernet control package.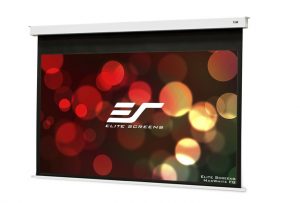 Evanesce Tab-Tension B Series
The Evanesce Tab-Tension B is our newest in-ceiling recessed projection screen. It is designed for concealed installations. It utilizes our CineWhite® front projection material. The tab-tensioned system maintains flatness uniformity throughout the entire surface with no tab impressions. Images pop and videos maintain true colors.