By Clint DeBoer
Superbowl parties have changed the way I entertain. Well, really, my job as a home theater reviewer changed the way I throw Superbowl parties. Or maybe I just like big screens and rowdy outdoor gatherings. In either case, this year saw the debut of the Elite Screens QuickStand Portable Screen. With this screen came the standard CineWhite screen material as well as the Wraith rear projection screen material we had spec'd to use for this year's game. I expected big screen entertainment. I expected ease of setup. I expected a product that was durable and which could handle many years of use in various venues and indoor/outdoor viewing opportunities. So, did I get what I expected? (see full Review)
Superbowl parties have changed the way I entertain. Well, really, my job as a home theater reviewer changed the way I throw Superbowl parties. Or maybe I just like big screens and rowdy outdoor gatherings. In either case, this year saw the debut of the Elite Screens QuickStand Portable Screen. With this screen came the standard CineWhite screen material as well as the Wraith rear projection screen material we had spec'd to use for this year's game. I expected big screen entertainment. I expected ease of setup. I expected a product that was durable and which could handle many years of use in various venues and indoor/outdoor viewing opportunities. So, did I get what I expected?
Well, I'm not going to tell you this early in the review, else you wouldn't read the rest. And no, I'm not going to put it in the closing paragraph either, so don't look there. You're just going to have to read the entire review. But don't worry—I'll make it interesting. I promise.
Why an Outdoor Projector Screen? Why Rear Projection?
Listen, if you've never brought your projector outdoors, you have no idea what you're missing. You can achieve a larger screen than anything you can typically accomplish indoors. You can invite more people than you can typically fit into your living room or home theater. And you can most certainly create a more entertaining and fun environment for viewing sports, watching a movie, or just checking out the six o'clock news.
I'm kidding about that last point. If you use your outdoor projector and screen for that, you are a serious news junkie and I really don't think you'll find the rest of this review entertaining at all.
Take a projector outside and you can add life to an event that was previously, by definition, pretty well contained. You can socialize with your neighbors, bring that movie-going experience right to your back yard, and create an environment where you can cook, play and enjoy the big picture in a social setting that blows away anything you can pul off indoors. We used the Elite Screens QuickStand in a couple of scenarios. One was for the Superbowl. And it was awesome. We had wings, and kids playing, and tables with tons of food and drink—and all of it was completely open and inviting. Whether you were a football fan or just enjoyed people, the experience was one that was talked about for weeks afterwards—and that's when you know you're entertaining right. The Elite QuickStand was a big part of that and, without a doubt, the experience would not have been nearly as much fun without that screen. We also used it at a local non-profit ministry where we held a family movie night and entertained over 150 parents and children with an evening of Ice Age: Continental Drift.
Build Quality
So that's why you want to do outdoor and big screen projection, but as for the Elite QuickStand, this solution will let you do it in a way that is easy to set up, and reproducible. When you used a portable screen—as opposed to a home-made solution—you are going to get more out of your projector: more color, more brightness and certainly more clarity. The QuickStand features an aluminum frame that, along with the screen material, fits inside of a rolling road case. The case is very durable, with corner and edge protection as well as robust handles. I'd call it medium quality, which is to say it will bear up under being hauled form place-to-place, but you wouldn't want to throw it on and off of an airplane too many times.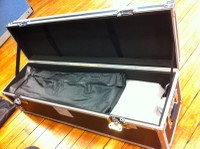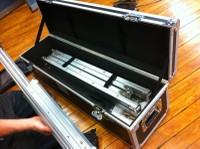 The frame, as we mentioned, is constructed from a thick gauge of aluminum and the hinges that allow it to fold are well-made. The screen material comes in a nicely protected pouch, and we had a separate one for the WraithVeil rear-projection material. There are several hook and loop strapping points to hold everything in place so it doesn't shift around as you utilize the portable road case. A couple of straps hold the lid in place when open, so it doesn't flay all the way back when you're loading or unloading the case.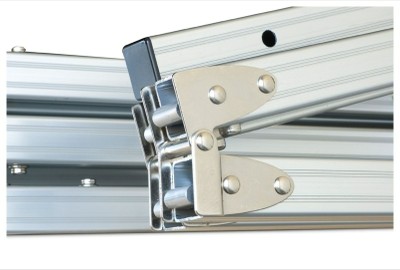 The Elite QuickStand screen really breaks down into three pieces, not including the screen. You have two legs to support the screen, and then the rectangular (in our case the 16:9 Q120H1 model) screen frame. Once you remove the two legs, you can unfold them and set them aside while you unfold the central frame. This process proved to be very simple and it was extremely intuitive. Once your frame is assembled, you lay it down and then proceed to attach the screen. This is done by starting in the middle and working your way out. It is not done by starting at a corner and working your way around the perimeter of the screen. I know this because I read the instructions—after having done it incorrectly…Actually, that story is true—it just happened about 10 years ago when I strapped up my first screen to a frame in my living room. Starting at the center allows the screen to stretch evenly and you have a much easier time getting the hardest snaps—the corners—to fasten. Elite Screens gives you something I've found incredibly helpful: corner straps. These straps are pull loops that you can grab and yank on. (Seriously, you have to yank as if you're trying to rip the screen in half.) There is an advantage to this, however, as the screen material is stretched so tightly, it eliminates any wrinkling after just a few minutes.

Once the screen material is mated to the screen, you can assemble the frame by selecting your height (you have tons of options here) and then securing it together using the included threaded bolts. Each has a black plastic knob on the end that you can simply hand tighten. Some screens I've reviewed included fasteners that required a tool or which were otherwise difficult to secure. I found the Elite Screens solution to be extremely quick and simple.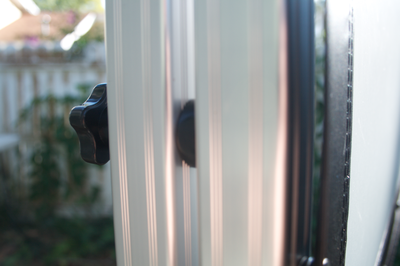 The legs on the Elite QuickStand fold out easily enough, but they don't have any incline adjustment to compensate for uneven terrain. Because of this, you may need to "shim" them in the event you need to place the screen outdoors on an incline. I've seen outdoor screens that have the ability to vary the pitch of the legs in order to correct for slight inclines—this is a feature we'd love to see added to the QuickStand.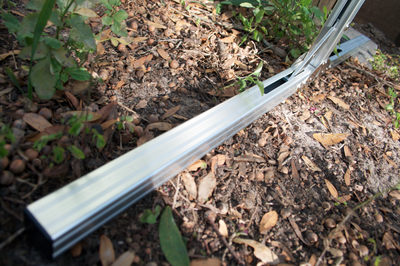 Conclusion
Portability, flexibility and quality all rolled into one is a good thing. If you need a portable solution that's dirt cheap, you can find alternatives—but most of those pull up out of a roller and they curl at the edges. If you want or need a truly flat screen and a screen with much better contrast, then the QuickStand is a solution you really need to investigate. For under $1000 you can get a 100″ screen that is durable and which you can take with you easily and quickly. I don't know that I can do a better job at recommending it than to simply say this is one of the best and most affordable quality portable screen solutions I've found on the market.
The Score Card
The scoring below is based on each piece of equipment doing the duty it is designed for. The numbers are weighed heavily with respect to the individual cost of each unit, thus giving a rating roughly equal to:
Performance × Price Factor/Value = Rating
Audioholics.com note: The ratings indicated below are based on subjective listening and objective testing of the product in question. The rating scale is based on performance/value ratio. If you notice better performing products in future reviews that have lower numbers in certain areas, be aware that the value factor is most likely the culprit. Other Audioholics reviewers may rate products solely based on performance, and each reviewer has his/her own system for ratings.
Detail and Resolution    4/5
Contrast and Black Levels    4/5
Color Reproduction    5/5
Build Quality    4/5
Ease of Setup    4/5
Features    3/5
Fit and Finish    4/5
Performance    4/5
Value    5/5