Elite Screens ezCinema Plus series represents a new paradigm in how people setup their projection screens. While the idea of a pull-up screen has been around for awhile, Elite has done it like no one else by way of a "scissor" style skeletal system along with pneumatic pistons to hold the armature in place. The result is an extremely easy to use projector screen that also has great portability. The model we received to review, model F100XWH1, features a 16:9 screen ratio of 100-inches diagonally and has a 49×87-inch viewable area.
The screen itself is made from Elite's "MaxWhite" screen material. "MaxWhite" features a 1.1 gain and black backing in order to avoid light penetration. The movies we projected onto the screen all looked great and I found no drawbacks to the MaxWhite material in the least. One final, awesome point about the MaxWhite screen material is that it is very easy to clean with some mild soap and water. An aspect of projector screens that I never had given any real thought to was scent. When deployed for any length of time, the ezCinema Plus screen did not make the room smell of vinyl and plastic like a lot of screens out there. Elite Screens has gone to great lengths make sure that this screen series has a GreenGuardcertification for an insanely-low amount of air pollutants. You see, much like that "new car smell", manufactured vinyl and plastics often give off scents which are not all that great for you to breathe in. This product is nearly free of those pollutants and, let's face it, it is nice not to have your house stink of vinyl when trying to watch a movie and eat some popcorn.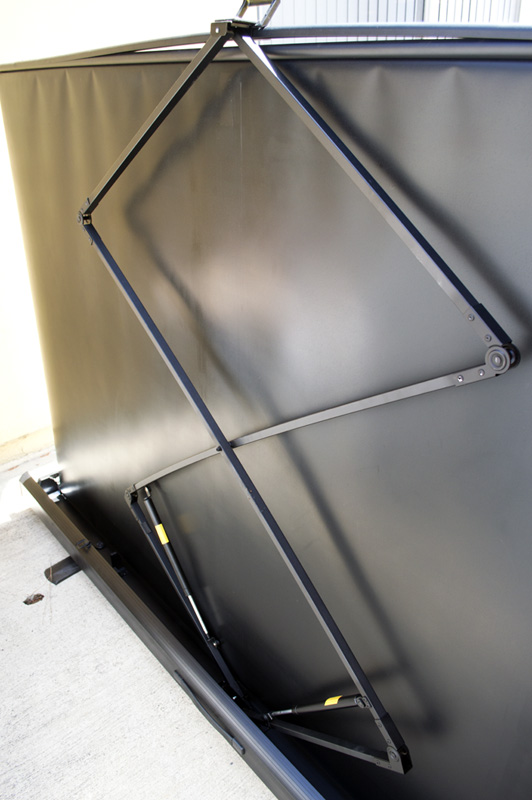 We wanted to take the ezCinema Plus screen through some various, possible uses. So, the first test we put it through was watching movies on our back patio. Our patio is basically a rectangle in shape, which makes it easy to place the projector on one end and the audience chairs on the other.  Additionally, the "rectangle" is enclosed by very high walls (but no ceiling). Unfortunately, this is where we encountered the most problematic issue with the unit: windy conditions. I had the screen fall backwards twice because the wind "wooshed" through just right and pushed it down.
Now, it is safe to say that this screen is definitely more at home in, well, a home or dorm environment where wind should not be a problem. However, for those of you wanting to entertain outside, take note, as you need to anchor the two ezCinema Plus feet a bit more if it's windy. Once I anchored down the screen's feet with a couple sandbags, it withstood the light breezes like a champ. Once done, I calibrated the projector and started up a Halloween-time favorite of mine: Michael Dougherty's Trick 'r Treat. Seeing the film on the large screen with the moon and stars overhead, it reminded me a lot of going to drive-in movies with my family as a kid – only with a much better sound system.
We also hosted a GamingShogun.com movie night where some folks were able to come on by and watch Sean S. Cunningham's original Friday the 13th, such a classic! Again, the screen proved the talk of the event, people marveling at how large and bright the image appeared. At one point in the film, we noted a strange light artifact but that was coming from the projector itself and did not have anything to do with the ezCinema Plus projector screen.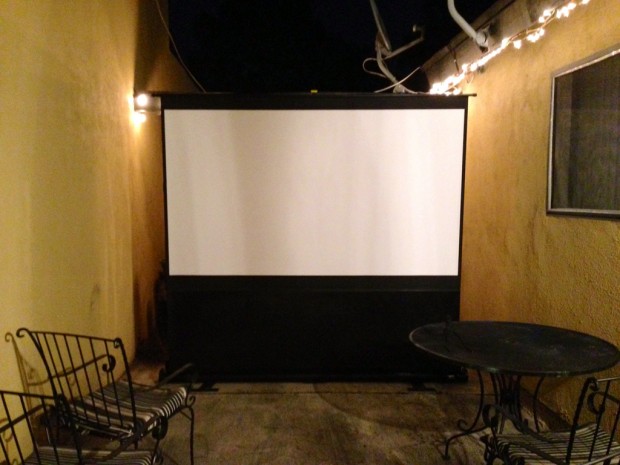 The next hurdle for the ezCinema Plus screen to jump in our review process was playing video games. Unfortunately, our projector doesn't have a short throw range. Being that this test had to be done inside my living room, I had to place the projector screen on the far end, blocking our front door. My wife loved this ever so much… But, I digress. After setting up the projector and hooking our Xbox 360 game console to its HDMI port, we began… I was simply slack-jawed at how incredible playing Gears of War: Judgment was on such a large screen. Going back to my 42-inch LED TV, I was just sad. It reminded me of using an LCD screen for a while then looking at an old CRT display.
Overall, the Elite Screens ezCinema Plus line of portable projector screens is a fantastic addition to your home or dorm theater setup. You can find the entire line of ezCinema Plus projector screens at the Elite Screens official website. We were so impressed by the great movie-watching experience this screen provided that I am awarding it a 5 out of 5 stars. Additionally, it garners our official"Seal of Excellence" for being such an outstanding product. If you have any inkling to create a home theater – look into this one!
Pros
Durable and rugged skeletal system
Easy to deploy
Comes with its own carrying case built-in
Cons
Feet are a bit short for windy conditions
ezCinema Plus Projection Screen Review Score
Overall Score: 5 out of 5