Installer name/title:  Joseph Wu, Homeowner
*Secondary assistance from Eric Hensman (videographer) and friend
Product: Evanesce Tension B (ITE135HW2-E8) "In-ceiling" electric projection screen
Project location : Residential Installation, Hacienda Heights
Accompanying Product:  Epson 5020UB projector (3 LCD 1080p with 3d capabilities)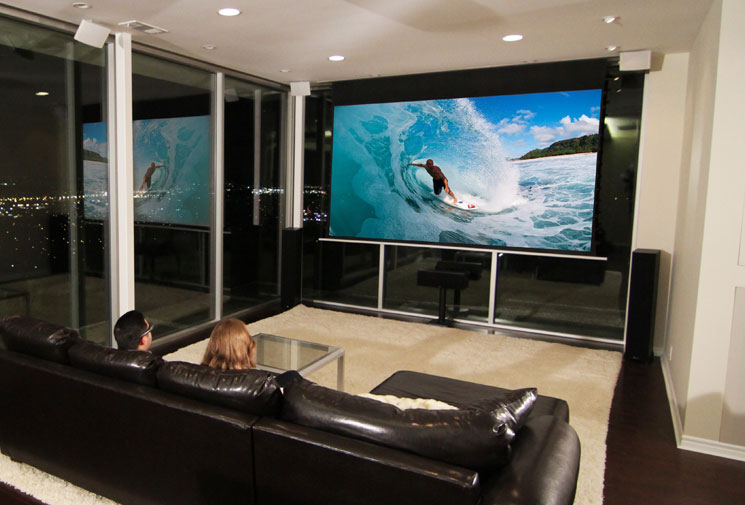 Detail of installation environment:
Hilltop residence with  35' long x 18' wide room with 11' high ceiling. 180° full glass wall panel visibility. In-Ceiling projection Screen. Elite 135" in ceiling screen was used with ceiling-mounted Epson 5020UB projector.
End user testimonial:
This was my first time planning a theater room install and I wanted it to be perfect. I knew that Elite screens would have what I was looking for. My home is a mid century modern home with a flat roof. What that meant was that I have attic above my ceilings. Because of that, I knew I needed a screen that can sit recessed into the ceiling and be installed from below. Other screens out on the market needed access from the attic.
With some help from a handyman, we cut the ceiling to allow the screen to perfectly slide in. Once it is in the space, we used 4 large screws and anchored it from below to the wood beam above. A quick level, 2 plastic covers to hide the 4 screws and it was in place. The screen is hardwired and I ran a 12v trigger to my projector. Everything worked smoothly and effortlessly.
The screen also comes with different mounting gear so you have lots of options. This is a project that anyone can do on their own with some planning. As for tools, we used a small saw to cut the drywall, drill to make the anchor holes and drill in the screws. I am very happy with my screen and it has made my home the movie house.
Once again, I just wanted to thank Elite Screens for the amazing screen!