By Dave Rodgers: Marketing Manager, Elite Screens Inc.
January 21, 2015
Nestled among new housing tracts at the base of the coastal hills in Carlsbad California is Faith Community Church.  Its members represent a cross section of Americans living in the seaside resort city and they are well accustomed to the quality audio/visual performance through their daily encounters with quality AV systems at home and in public.  This is important because, the average worshiper subconsciously develops a standard of how good sound and visual performance should be.  Although it is important to provide comparable quality for praise and worship and other Church presentations the solution however, is not necessarily spending more money but actually spending less if possible without sacrificing quality.
Elite Screens recently documented the installation of a pair of ezFrame2 (R165WH2) projection screens in the Faith Community Church in Carlsbad, California.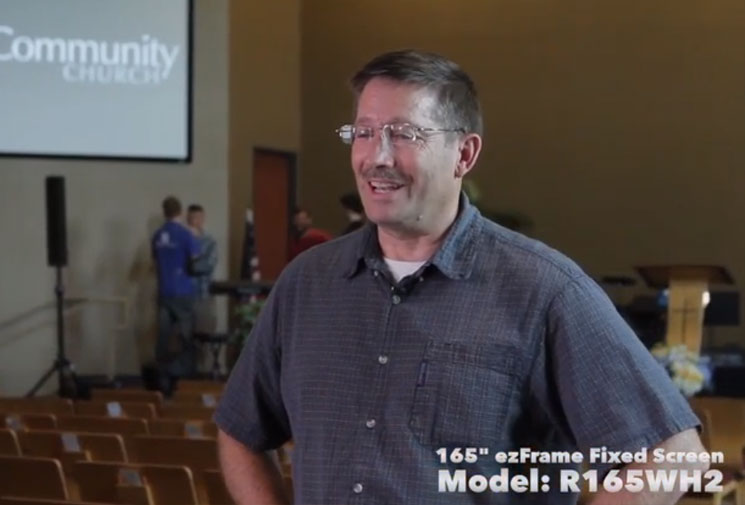 "We have had the screens, I believe for four weeks. They came with great instructions; one of the guys in our church put them together with his son." said Doug Baker, Pastor of Faith Community Church. "The reaction has been absolutely phenomenal. The reflective nature of them is really perfect for this auditorium."
Faith Community Church is a great example of Elite's innovative commitment to providing the right gear for any project where a two-piece large visual display can be installed.  At roughly 12-feet wide, both screens presented a large image solution that is easily seen from any seat in the sanctuary.  This is a superb example of how a professional-grade big screen solution is a lot easier and affordable than one could imagine.
The ezFrame2 fixed frame screens feature a variety material options in a multitude of sizes and aspect ratios. Its frame is of lightweight velour surfaced aluminum. It includes a sliding wall bracket and is ideal for houses of worship as seen here.  The CineWhite material provides wide diffusion uniformity. This means that wherever parishioners sit, they will get an equal degree of image brightness and the material can work well with either ceiling or table-mounted projectors in accordance with each congregation's particular needs.  For special circumstances, acoustically transparent and ambient light rejecting materials are also available.
Project Details