Date:  Feb.11, 2017
Location:  Aachen, Germany (Residential)
Product: Sable Frame (Cinegrey 3D®) ER100DHD3
Projector: Sony VPL HW65
Installer: Heinrich (Residential)
Customer Comment – "Great screen for living rooms with bright colored ceiling and walls"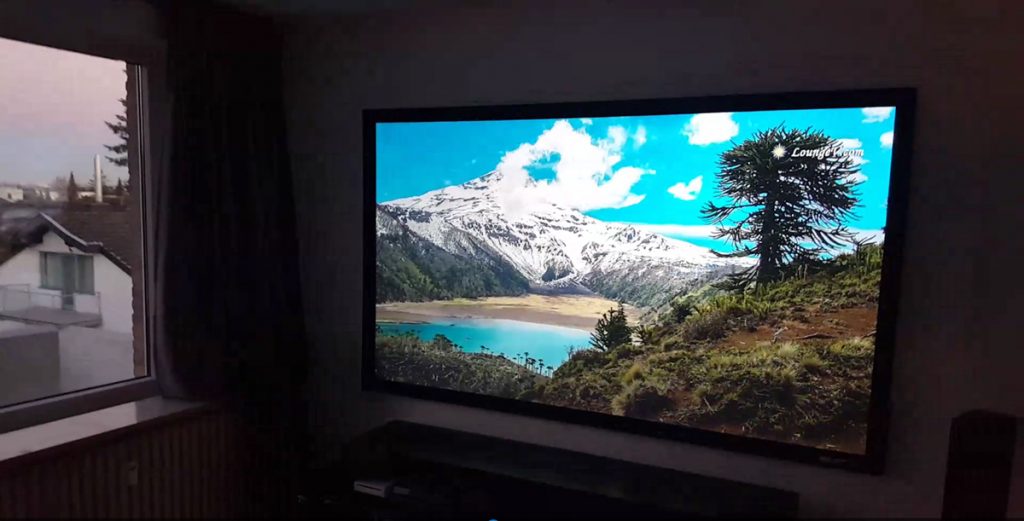 Residential applications come with a set of requirements as diverse as the homes into which each installation goes. Throughout Europe, urban residential installations present many of the same challenges that we encounter here in the US. It must be minimally invasive but more importantly, you'll be working in an environment where there is a high amount of ambient light.
In Aachen, Germany, one of their resident AV enthusiasts knew exactly what he needed to make this tough install work and he came through with flying colors, literally. Heinrich is one of our Elite Screens GmbH customers. He selected a 100" Sable Frame CineGrey 3D® (ER100DHD3) projector screen. This is an excellent choice since the lightweight  fixed-frame design hangs onto the wall as easily as a picture does but the secret weapon against the washout effect of incident lighting is the material's Ambient Light Rejecting (ALR) capabilities.
"The day time viewing has been improved very much."  Said Heinrich as he backed away panning left to show the daylight entering the room through his large balcony windows overlooking the town.  He panned right to show the large amount of ambient light entering from the hallway and kitchen.  For a moment, the camera's filter adjusts revealing just how bright the room actually is.  "The colors are more intense to me." He said while saying the same about the overall brightness as well.
He also mentioned an advantage that you get with an ALR over the washout of a matte white or the old-fashioned matte grey screen materials when he said "Whites are still white and not grey."  Heinrich continued, "Also, and this is very important to me.  I cannot see any hot spotting on this screen so the brightness is very uniform here."  The video revealed beautiful alpine scenery that jumped off the screen with vivid brightness and color and Heinrich continued his narration.  "So overall, I am very happy with this screen and I would recommend this to anyone who wants a great projected picture in a bright-colored living room with some ambient light present."
It's always a pleasure to see people take their AV interests to the next level and it's a real honor to be chosen for an installation once they have considered the options and made an educated decision.  I'm glad we are playing a part in another great home theater display.  If you haven't already, we'd like to help you bring home the big screen as well.