Garden Grove, Calif. September 26, 2016 — Elite Screens, Inc. an innovative company that specializes in quality projection screens, today announced the launch of its Yard Master Manual series of outdoor manually retractable projector screens. "There is been a growing demand for a retractable outdoor projection screen that has an indoor product look to it." said Dave Rodgers, Marketing Manager for Elite Screens. "When we launched this product, we did not want it to look like a stripped down piece of outdoor gear and we succeeded wonderfully.  This has all the refinement worthy of a media room and all the rugged durability of an outdoor product."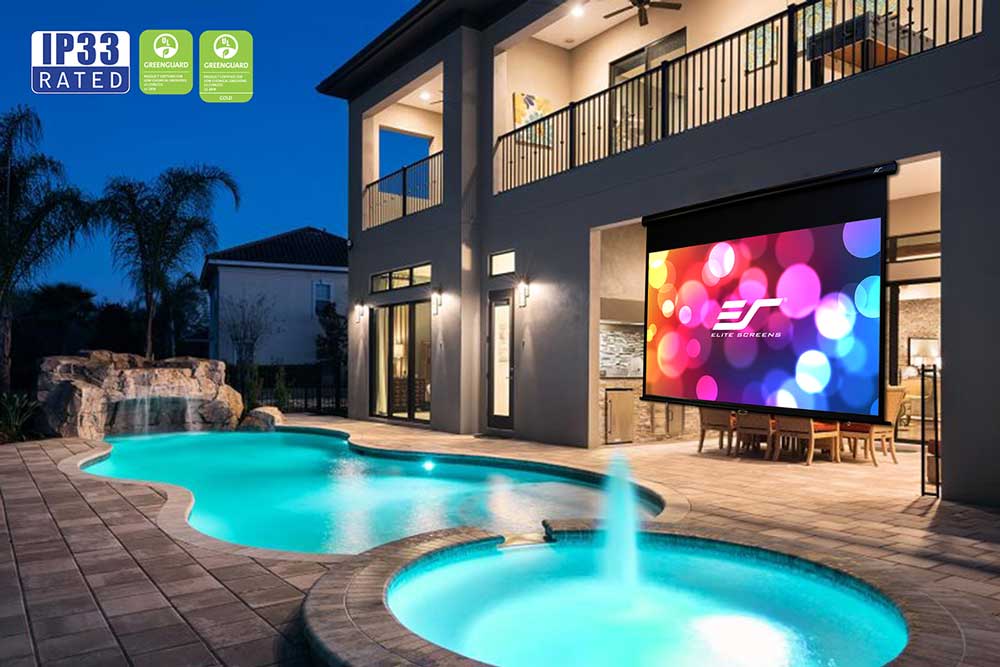 Click image to view product web page.
The Yard Master Manual is a non-electric outdoor projector screen that brings media room quality to your outdoor spaces.  It is IP33 certified for rain/water protection using a sleek enameled weather resistant aluminum casing beautifully accessorizes your backyard, patio, pool deck, or anywhere a gathering for evening movie time is appropriate.  The components are made from rustproof materials.   This includes the housing, roller tube, brackets, handle, weight bar, and floating wall/ceiling brackets.  The floating brackets enable the installer to have a perfectly centered installation, every time.  The rising and lowering mechanism utilizes an SRM (slow retract mechanism) that prolongs the product's lifespan and allows the material to rise back up into its casing unassisted.
The MaxWhite® projection material is home theater grade and designed to withstand the elements as any outdoor projector screen should.   Its 1.1 gain projection surface provides a wide viewing angle with superb color temperature that will accommodate your entire viewing audience.  Its 4K Ultra HD and Active 3D Ready material accommodates the highest performance projectors and even active 3D presentations.  Additional aesthetics include black borders that enhance perceived contrast while negating projection over scan.   The material has a black backing that eliminates light penetration for a brighter image.   It is also GREENGUARD® and GREENGUARD® Gold (UL2808) certified for safe air quality emissions.
Product Availability
The Yard Master Manual Series is available through the Consumer Electronics Sales Channels.This includes online as well as brick & mortar facilities for the specific use in outdoor applications. It carries a 2-year manufacturer's warranty with an  ENR-G™ 3-year warranty program for Educational, Non-profit, Religious and Government/Military organizations.