Ambient Light Rejecting (ALR) Motorized Projector Screen now available – Introducing the Saker Tab-Tension ALR Electric Screen
By Dave Rodgers (Marketing Manager of Elite Screens Inc.)
Garden Grove, Calif. Apr. 12, 2017 — EliteProAV™, Inc. an innovative company that specializes in quality projection screens, today announced that its Saker Tab-Tension electric projector screen now features the CineGrey 5D® ambient light rejecting (ALR) Material.  This is a high (1.5) gain 3D-2D projection material tough enough to come in a retractable tab-tensioned format.
"Ambient light rejecting materials allow larger-than-life projector screens to replace the smaller "large" flat-panel displays at a fraction of the cost."said David Rodgers, marketing manager, EliteProAV™ "Making a product that can reliably handle repetitive use for many years was a tough challenge for an ambient light rejecting (ALR) material.  Now that we have it mastered, this product will answer a lot of demands that this industry has put on manufacturers to fulfill."
EliteProAV's Saker Tab-Tension ALR projection screen merges the qualities of an ambient light rejecting (ALR) projector screen material with that of a manually retractable format.  ALR projection screens enhance picture quality with brighter imagery and more defined contrast levels.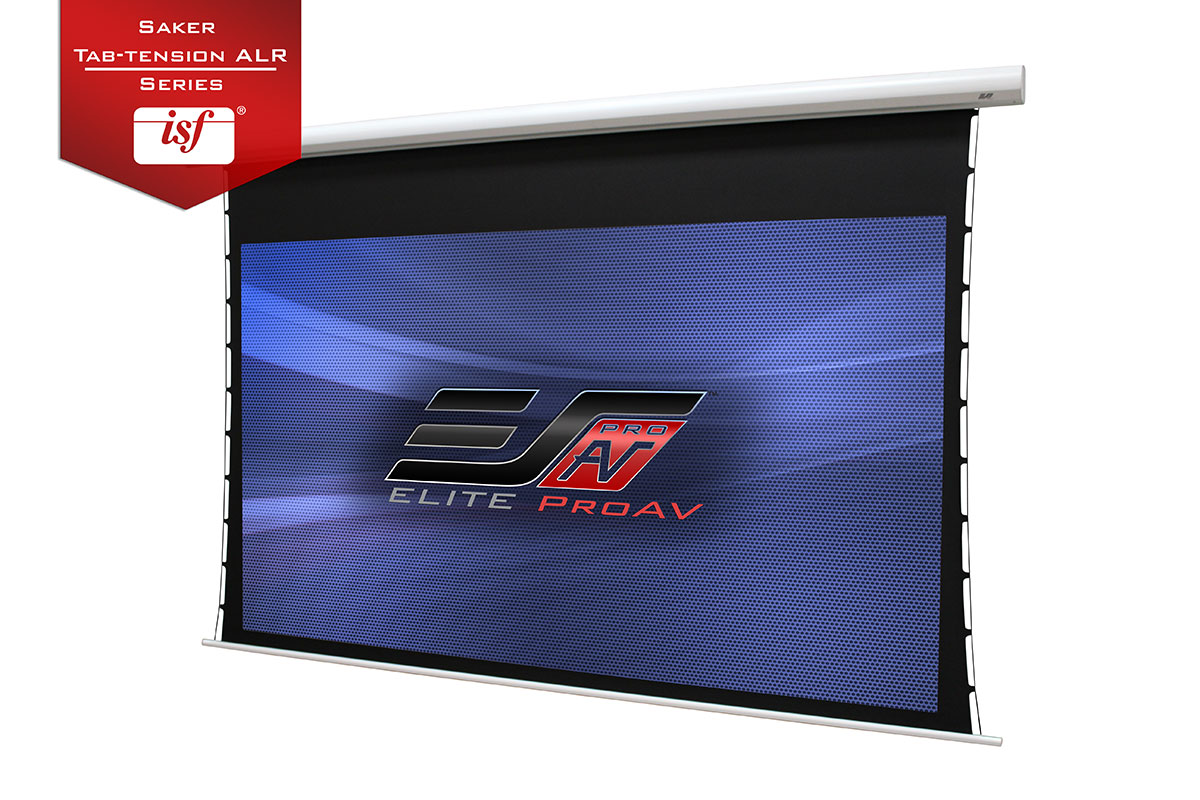 However, its greatest value comes from its ability to counter the "wash out" effect of ambient light. This is something highly valued since a larger-than-life projection display can now replace large TV panels at a fraction of the cost even in a brightly lit room. The CineGrey 5D® is a .35mm thick PVC material that comprises of a silver-gray reflective textured surface with a tinted diffusion layer.  It is a 1.5 gain material is also ISF certified for its ability to achieve D65 color neutrality, superb contrast and dynamic range bringing a world class performance to any installation. It is available in a 16:9 aspect ratio with 100", 120", 135", and 150" sizes available. This also includes with extra drop borders for high ceiling installations.
This angular-reflective material is ideal for use with floor or ceiling-mounted projectors in either a residential or business environment. Its 110° overall half-gain angle makes it ideal for theater-style seating while it both enhances picture brightness while retaining 88% polarization during 3D presentations.  For added flatness, a precision made tab-tension system with side-cords running along the screen's sides ensures that the CineGrey 5D® Manual Tab-Tension presents a perfectly flat projection surface.
It retractable format gives end users the versatility to bring home a massive screen without dedicating the wall space solely for that purpose. When it's not in use, the screen goes away.
Most importantly is its  innovative Tab-Tension design that ensures a perfectly flat movie screen surface even for a roll-up screen. The Saker design protects the material from within a stylish arcuate-profiled aluminum casing that is white enamel coated and equipped with flush-wall floating brackets so that the installation is perfectly centered every time.
An installation kit along with full IR/RF control package is included.  This also includes a detachable 3-way (up/stop/down)  wall switch as well as a 5-12v trigger to coordinate the screen's drop and rise with the projector's power cycle.  Lastly, the design incorporates an RJ45 port allowing the end user to incorporate 3rd party control system integration if needed.
Availability and Warranty
EliteProAV's  Saker Tab-Tension CineGrey 5D®  Projection Screen and is available through the dedicated System Integrator (ProAV) channel in a 16:9 aspect ratio with 100", 120", 135", and 150" sizes available.  This also includes with extra drop borders for high ceiling installations.. It comes with EliteProAV's 5-year manufacturer's warranty plus an ENR-G 5% discount for purchases through Educational, Non-Profit, Religious and Government/Military organizations.
Fast fulfillment and shipping: Elite has regional warehouses in California, Texas, Georgia, and Maryland.  This means your order can be fulfilled and delivered to you in as little as 3-days using standard ground services.