About the Manual Grande®
The Manual Grande® fulfills a vital role in providing a retractable big-screen installation that does not require an electrical source. Various facilities may not be adequately wired to provide outlets for ceiling or near-ceiling attachments. This is especially true with precast concrete buildings and subterranean structures. A larger non-electric screen may also be more appropriate for use in thin-walled structures that have a limited weight tolerance and local code requirements prohibit the placement of electric power sources for a large screen to use.
The Manual Grande® is not dependent on an external power source and has fewer moving parts. All this reduces the opportunity for a mechanical failure. The drop-retract mechanism is based on the same systems used in large window roller shades. This ensures that the product is more user friendly and durable enough to withstand many years of heavily repetitive use. Lastly, there is an aesthetic advantage in that there are no exposed wires on this product. These screens ship fully assembled and ready to install.
Primary Features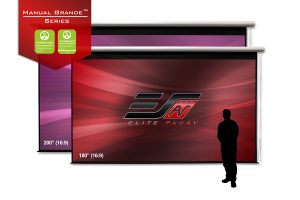 Large format non-electric retractable projector screen
Bead chain clutch system allows up/down/stop at any point of rotation
4K Ultra HD and Active 3D Ready Matte White Material
GREENGUARD® / GREENGUARD® Gold (UL 2818) certified
Available in 4:3 and 16:9 aspect ratios
Large format non-electric retractable projector screen
Bead chain clutch system allows up/down/stop at any point of rotation
(Click for Image for Product Page)