Garden Grove, Calif. Nov. 14, 2017 — EliteProAV, Inc. an innovative company that specializes in quality projection screens for the Professional AV sales channel, today announced the release of its Manual Tab-Tension series of non-electric projector screens for the commercial AV sales channel.
"So many people have been asking for higher quality in a non-electric format and the reason has almost always been for commercial facilities." said David Rodgers, marketing manager, EliteProAV "On many occasions, there is no power connection for ideal screen placement point within various venues so this design saves a lot of time and money without compromising quality."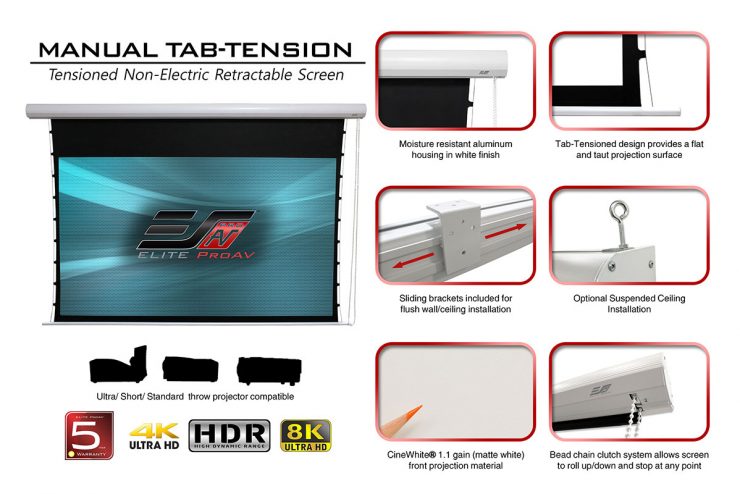 EliteProAV™ presents the Manual Tab-Tension Series, as its premium grade non-electric large venue projector screen. It fulfills a need in many facilities for a tough, versatile design that can be easily installed and used where there is no available power source. This is essential for venues such as meeting rooms, conference halls, gymnasiums, college forums, church sanctuaries, training facilities, and large meeting rooms.       
The design features a manually operated bead chain clutch mechanism with a swift rolling sprocket that allows the material to stop at any point of its drop/rise operation. This is essential for properly matching the projection surface with the projector's footprint.
The screen uses Elite's Cinewhite® 1.1 gain tensioned white material. It offers wide diffusion uniformity that provides equal brightness to all viewers regardless of where they are in the room. The material accommodates 4K/8K/UHD resolution projectors and is reinforced by a tab-tension system that allows the projection surface to be flat and taut so that ultra/short throw projectors may be used with this screen as well.
The housing is of a sturdy white enameled aluminum construction.  It is moisture resistant and available in a white finish. It includes flush sliding wall brackets that align with wall studs while allowing the installation to be perfectly centered.
Availability and Warranty
EliteProAV's Manual Tab Tension Series of  Projection Screen and is available through the dedicated System Integrator (ProAV) channel in 4:3, 16:10, and 16:9 aspect ratios in sizes ranging from 100" to 120".  It comes with EliteProAV's 5-year manufacturer's warranty plus an ENR-G 5% discount for purchases through Educational, Non-Profit, Religious and Government/Military organizations.
Fast fulfillment and shipping: Elite has regional warehouses in California, Texas, Georgia, and Maryland. This means your order can be fulfilled and delivered to you in as little as 3-days using standard ground services.
About EliteProAV
EliteProAV™  is a dedicated manufacturer of projector screens for the commercial AV sales channel. It provides an array of dedicated commercial grade projector screens for professional integrators. This includes certified products that are also compatible with building codes as well as programs, warranties and trained professionals to assist installers every step of the way.  Product is available through a series of regional warehouses located in Southern California, Texas, Georgia, and Maryland.
EliteProAV™  is a division of Elite Screens Inc., an ISO9001:2015 certified manufacturer that is presently the leading international brand of CE Retail projector screens with offices located worldwide.