Garden Grove, Calif. Nov. 6, 2018 — Elite Screens Inc. an innovative company that specializes in quality projection screens, today announced the launch of its Aeon AUHD acoustically transparent fixed frame projector screen featuring Elite's stylish Edge Free® design. It features the AcousticPro UHD material which is designed to complement in-wall speakers by allowing sound to pass through the material with minimal attenuation while creating a flat enough surface to handle 4K – UHD projector content.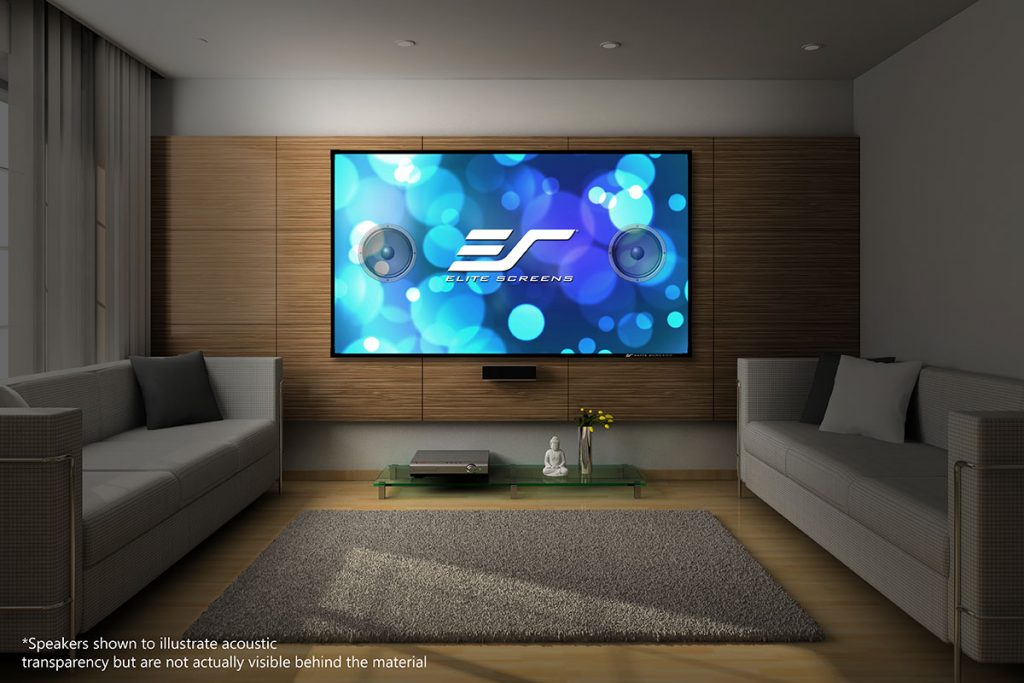 The Aeon Series uses an EDGE FREE® design that utilizes an internal frame with wrap-around material. Aesthetiacally, it resembles a giant size flat panel display. The smaller footprint maximizes viewing area while creating a cleaner, simpler appearance. A thin black metal edge strip comes with the screen should a thin trim on the screen's border be  desired. Its sliding wall brackets ensure that the frame is properly centered. Optional features include an  LED back-lighting kit with remote control or a splice bracket kit that will connect multiple frames to create a large size display
The AcousticPro UHD (ultra-high definition) is a 1.0 gain moiré-free self-supported acoustically transparent front projection screen material.  The dense synthetic weave of this transparent screen is compatible with Ultra-High Definition/4K resolutions while mitigating light penetration for a brighter picture. The AcousticPro UHD design maximizes sound penetration with minimal attenuation (Mean Attenuation: -2.36dB) without compromising picture quality. The AcousticPro UHD transparent screen material's wide diffusion uniformity offers a broad 180° (90°L/R) viewing angle with superb picture quality across the entire surface. This provides equal brightness levels on or off axis. The tight weave also accommodates Standard 4K, UHD, Active 3D, and HDR Ready content.
The split framework makes up a compact package that ships without the need for costly freight charges. It is also easy to get the Aeon AUHD around tight corners into installation sites with a minimally invasive solution. The product assembles quickly while its floating wall brackets align with wall studs but can be perfectly centered.
Available and Warranty
Elite's Aeon AUHD  Projection Screen has a starting MSRP of $500 and is available through the CE Retail Sales Channel  in a 16:9 aspect ratio with  100″, 120″, 135″ and 150″ sizes available.  It comes with Elite's 2-year manufacturer's warranty or 3-year ENR-G warranty for Educational, Non-Profit, Religious and Government/Military organizations.
Fast fulfillment and shipping
Elite has regional warehouse facilities in California, and Maryland.  This means your order may be fulfilled and delivered to you in as little as 3-days using standard ground services.