Date:  May 2018
Location:  Los Angeles, California
Event: Commercial Application – Mack Sennett Studios
Interviewee: Jesse Rogg of Point Blank
Product: CineTension B Series TE110HW2B-E24
Video Link: (Click Here)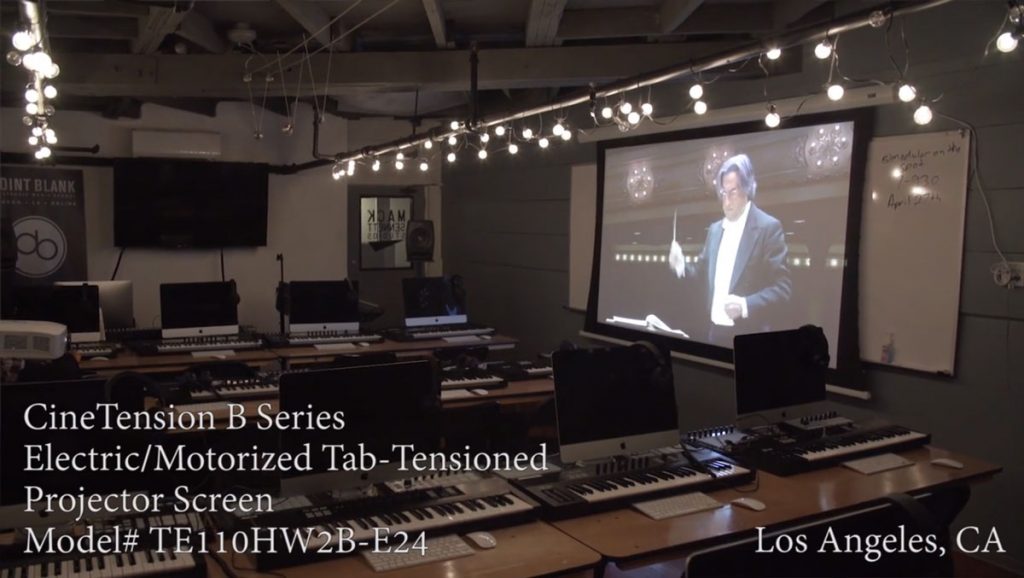 The CineTension B is a workaday projection screen that Elite crafted to fulfill an inexpensive role without cutting corners on the quality. A great testimonial for this is the screen's use at the world-famous Mack Sennett Studios. We interviewed Jesse Rogg and got a great testimonial. At the time of filming, the CineTension B screen was being used with the Point Blank Los Angeles in collaboration with Point Blank London. The project is dedicated to teaching students all about production, mixing, sound design, DJ, and the like.
"I like using this screen because it is flexible. I am able to put it up and down during classes and it goes away when I don't need it." Said Rogg as he demonstrated the screen's up/down settings. Regardless if it is for education, corporate training, or any other business presentation, a retractable screen is usually the best solution so that empty wall space is available for the myriad of functions that come up in a busy training environment.
In addition to convenience, the bottom line is performance.  What's the point of having a projection screen at all if there is no difference in performance between that and drywall or a bedsheet. The whole point of Elite's various product lines is that you will receive a professional theater grade material that impedes neither image clarity, color temperature or  picture resolution. In regard to this, Rogg said, "The product is also fantastic because of the crystal-clear picture. We never have the students in the back ask us what it says on the screen."
The overall conclusion that Jesse Rogg said on this product and his overall experience with the company was as follows: "Elite Screens is great because we are able to bring the projection screen down at the push of a button, the flexibility, the price, and the quality, and its all-around ease of use."
As a projection screen company, it's great to see the cycle go full circle.  From displaying film content, to helping tomorrow's film makers create content for the dream windows in the years to come.
About the CineTension B Series
The CineTension B is the ideal tab-tensioned projector screen for the CE Retail channel. It has a long distance IR/RF remote control kit. A detachable wall switch keypad is also included. Its tab-tension design ensures that its CineWhite® UHD  material maintains the necessary flatness for its wide diffusion uniformity. The white aluminum housing is designed to accommodate floating wall/ceiling brackets that align with wall studs and ceiling joists providing a simple DIY installation.