REVIEW: Elite Screens QuickStand 5-Second Series
Product: QuickStand 5-Second Series
Magazine: Church Production Magazine
Reviewer: Mark Hanna
Review: Projector screens have a long and sordid history in churches. Not that long ago a church that had a projector screen was "cutting edge." However, today having a projector screen in church is almost, dare I say, a requirement. Also, more and more churches are going portable, for both main site and multi-sites. Anyone working or volunteering in a portable church knows the importance of time—and gear that saves time. For these people, an investment in anything that saves time is always a good investment.
If you have ever set up a folding portable screen with skirt kit you know that "fast" is really not in the equation. Between snapping the screen to the frame and standing it up, they should really just be called "foldscreens."
Elite Screens has released a solution for those plagued with slow set-up times with its QuickStand 5-Second series. Despite its remarkable size (our review unit was huge), this screen truly goes from road case to projection-ready in five seconds.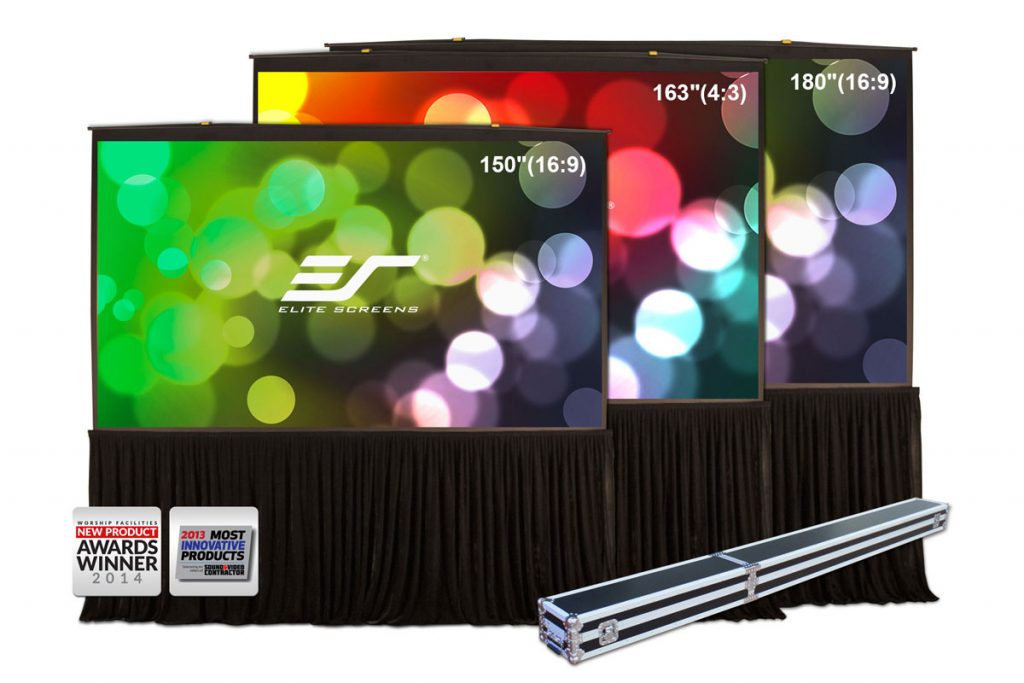 The upside
Setting up a projector screen is typically not a lot of fun, and usually a pretty tedious task. The Elite Screen QuickStand 5-Second series screen is actually very easy. In fact, I'm not sure I could do justice to how easy it is in writing. One of the big selling points is that Elite says it only takes five seconds to get the screen raised. The truth is, it really only takes five seconds if you do it slowly. It's amazingly easy and very smooth going up. The scissor-style supports on the back are very stable. It looks great, and comes with a skirt kit that provides a neat, professional, finished look.
Unlike so many other manual screens, you will never have to worry about Elite's QuickStand 5-Second screen being damaged because someone wasn't prepared to lower it and the screen rolled itself up too tightly or quickly and was ruined. Plus, I really like that it stores in the heavy-duty road case, so there is not really any assembly required.
The screen itself is great. Our review unit featured Elite's MaxWhite Fiberglass (FG) 1.1 gain material with wide diffusion uniformity, ensuring a flat projection surface. It comes in varying sizes: 150- and 180-inch in 16:9, 154- and 185-inch in 16:10; and 163-inch in 4:3. It's also flame-retardant and complies with NFPA 701 standards. The material has low chemical emissions and is certified GreenGuard Gold Certified UL 2818.
The Downside
While the screen is portable, at proximately 160 pounds and just under 14 feet long, moving our review unit was not a one-person operation. The road case does have wheels on one end, so it is possible for one person to move it—as long as that person is only moving it in a straight line. When you get to tight turns and stairs though, a second person is really required. Also, the road case is too large to travel in most standard elevators, and even our church's coffin-length elevator was too small to accommodate it. So keep in mind, if you are going to be using this screen on a second floor or traveling in a trailer, it will be important to confirm all measurements.
For testing I was able to get some help and we were able to carry the screen up the flight of stairs to test it in our church's chapel. I found a second person to be helpful when it came time to raise the screen. The scissor supports and handles are spaced far enough apart that one person would really struggle to raise the screen properly. While it is easy enough for one person, Elite Screens recommends using two, one for each side, to ensure that the screen rises evenly. I could see how you might damage the screen or the supports if you raised or lowered the screen unevenly.
Also, don't forget this screen, when fully extended, is well over nine feet tall, so you can't lower it from the top handles. This means you are going to have to place your hands on the scissor section, which makes me a little nervous. The opportunity for pinched fingers appears to be pretty high. While the screen does come pretty high out of the road case, it doesn't come out high enough for the bottom to be over the audience's head. It simply does not extend to the point that you could have it above the audience if they are on the same elevation. The few feet covered by the skirt kit brings the top of the screen well above eye level, but the bottom wouldn't be viewable unless it were on a stage or elevated platform of some kind.
Considering the size, ease-of-use and quality build materials, I think this is a great travel screen. The Elite Screen QuickStand 5-Second could be a huge contender in the mobile church market. However, to accommodate a screen this big, the road case is big and heavy. So the formula you have to consider is convenience vs. size and weight. I think there are many times that convenience is going to win out. The fact that the screen is huge is completely overshadowed by the fact that it is so amazingly quick and easy to put up. Trust me, that's a fact your volunteers will appreciate.