Elite ProAV® is proud to announce its Pro Frame Series projection screen for conference rooms, training facilities and hospitality venues. It uses Elite's award winning CineWhite® (matte white) front projection material. The anodized aluminum framework assembles quickly and installs easily. The end-result is a low-maintenance, high-quality video display and the sleek profile avoids collecting dust.
Key Features of the Pro Frame Series
CineWhite® (matte white) 1.1 Gain Tensioned Material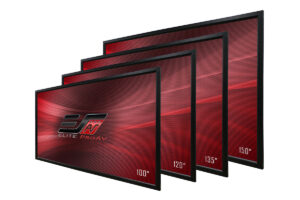 Wide 180° viewing angle with Black backing
4K/8K Ultra HD compatible
Available in 16:9, 100/120″/135″ and 150″ sizes
Installation kit included
5-year manufacturer's warranty
Lifetime Tech Support by Elite's professional Service Team
Elite Screens is a Worldwide Company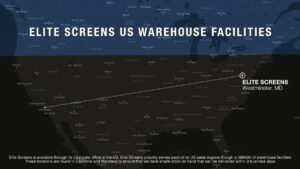 Elite Screens has regional offices worldwide to accommodate North America, South America, Europe, Africa, Asia and Australia/Oceania. Contact us now to learn about our various programs.
See More Case Studies and Learn About The Projector Screen Industry
Elite Screens is one of the world's top brands in projector screens. Our blog is designed to answer the tough questions everyone has but may be afraid to ask on a public forum. Elite's Projection Screen Resource Blog provides you with insight on the latest industry trends, tech tips and customer testimonials so that you may acquire an inside view of this diverse channel.
For more information about Elite ProAV®, please visit our website
or contact us at:
Our toll free number is 877.511.1211.