Date: July 20, 2019
Event: Residential Application- Huntington Beach, Ca
Product: PolarStar® eFinity (EF100H-PST) 100" 16:9 Fixed Frame Projection Screen
Video Link: (Click Here)
Home theater projection is migrating out of the "dark room in the back" and coming into the central living space of today's homes. This residential installation in Huntington Beach demonstrates how an ambient light rejecting material. There are a variety of ambient light rejecting (ALR) materials on the market today that mitigate the washout effects of ambient light so that the projected image will be bright and clear regardless if its night time or a bright sunny day. The Polar Star® material has earned the designation of "CLR®" or ceiling light rejecting due to its added capability of rejecting up to 85% of overhead light.
Reviewer Feedback:
Gil Ortiz, a resident of Huntington Beach, California was so proud of his new projection system. He started off by stating why he wanted the screen in the first place. "One of the reasons why I went with a projection-based system is the fact that I wanted to watch the Steelers games on a Sunday morning on a very big screen. What this screen allows me to do is to watch Sunday Football in the daytime, Monday night football and Thursday night football." When asked what the primary selling point were that inspired him to reach out to our video team, he said that the product sales boilerplate said it all. "The Polar Star® screen is an ambient light rejecting screen that allows me to watch (projection screen) TV in any light conditions without degradation of the picture. Their screens are ISF certified, have a 1.3 gain (brightness), and has accurate color balance and minimal hot-spotting." There are additional features included with the screen. Among them is an LED backlighting kit that that transforms the screen into a stylish source of mood lighting even when it's not in use. "One of the things I like about the Polar Star® eFinity screen is the fact that it comes with an LED (backlighting) kit free of charge. "The LED kit allows you change (the backlighting) to many different colors depending to the mood you want." In conclusion, Gil gave a very favorable assessment of the product. "I absolutely love it; I highly recommend it to anybody looking for a big screen at the right price, that you could watch day or night; football, baseball, basketball, you name it, EPV Screens really gives you a great value."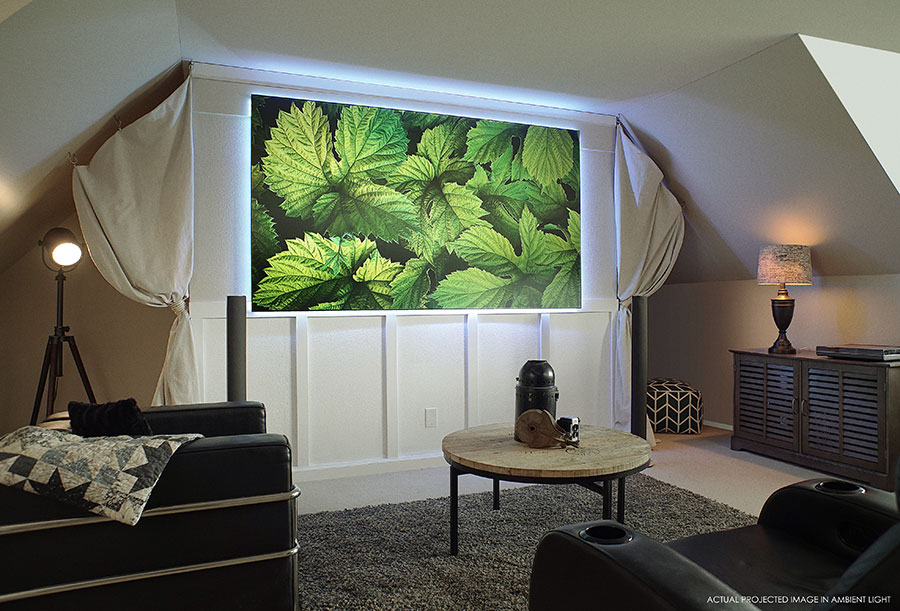 About the Polar Star® eFinity (EF100H-PST) 100" 16:9 EDGE FREE® Projection Screen
The Polar Star® eFinity Series from Elite Prime Vision® is an internal-frame projection screen with the wraparound material design that is better known as EDGE FREE® because of its lack of a traditional external framework. It's Polar Star® The eFinity EDGE FREE® design maximizes the viewing area in a smaller space footprint without compromising the screen's structural integrity. It includes a micro-thin 6mm black bezel and a backlight LED kit with Infrared remote control.
EPV®'s Polar Star® eFinity nicely complements any interior decor with clean lines and an elegant "EDGE FREE®" design. It provides a stunning image that doesn't wash out even in bright ambient light. The Polar Star® material's reflective properties and diffusion layer allow images to have sharp contrast levels with a spot-on neutral color temperature.
It's the ultimate multi-purpose projection screen for virtually any indoor projection environment.  The Polar Star® is polarized for Passive 3D applications and is Active 3D and 4K Ultra HD ready.
Screen Material
Polar Star® (ALR) 1.3 Gain angular reflective ambient light rejecting material
Excellent color fidelity, contrast enhancement, and brightness retention
Polarized for Passive 3D applications
4K Ultra HD, Active 3D, and HDR Ready
ISF Certified by the Imaging Science Foundation for its reference grade color performance, contrast and black/white dynamic range
Design and Installation
Internal framework with wraparound tensioned projection material
Aluminum lightweight split-frame design
Sliding wall mount brackets to precisely center the installation
Micro-thin 6mm aluminum black bezel
LED edge backlighting kit included with Infrared remote (IR) control for added visual appearance
Recommended Minimum Lens Throw Distance 1.5x image width
-DR