Don't miss the recent Redfin article we were featured in: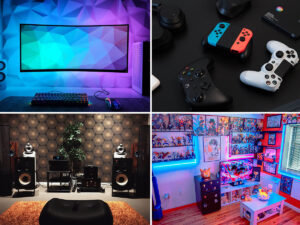 Video games are big. Like $155 billion big. In fact, it's estimated that 26% of the world's population are regular video gamers across various platforms. Given these statistics, it's likely that you or someone you know is an active video game player, especially if you own a home or rent an apartment in video game meccas like Seattle, WA, or Austin, TX.
Video game rooms are a great way to help get more immersed into a game, regardless of the platform. Depending on budget and space, a gaming room can allow you to bring in more computing power, louder and fuller sound, storage for all of your accessories and decals, and can give you an excuse to use that unused room in your home.
Invest in Quality Displays
You'll be looking at your displays for hours on end while you game, so choose carefully. There are three general choices to choose from: monitors, televisions, and projectors. Monitors benefit from their smaller size and versatility, while "projection screens can enhance your experience by increasing immersion," says Benjamin of Elite Screens, a source for cinema-quality projector screens. "Not only do projector screens give you a cinematic feel, but they are better for your eyes as well."
Projectors are generally best for much larger rooms and are hard to move from one room to another. TVs are the perfect option for those who like consoles and will be sitting farther away from the screen. However, since monitors tend to be the most popular, let's take a close look at those.
Redfin asked us, along with other experts, to share why you should consider a gaming room for your home. Check out what we had to say!